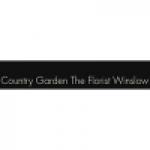 Profile
Just a little about me "Johnathan" I have been a florist for twenty or so years .It all started for me at a family funeral that I attended all those years ago.

The family had ordered the flowers from a local florist & together we paid the bill . As we viewed the flowers after the service I couldn't help but notice the family were just so disappointed with the quality of the tributes and of the flowers that were in them . It made a very upsetting day even more distressing. That was the start of my career in floristry.
Flowers for every occasion, Weddings , Funerals, or just to say "I love you " corperate functions,dinner parties or special occasions. We specialise in floral sculptures and location work . Flowers delivered WORLDWIDE. Members of: IFLORIST, FLOWERS4,FLORIST EXCHANGE,FLOWERS DIRECT,COUNTRYGARDENWINSLOW.We cover 24 postcodes in the Milton keynes area.Fresh flowers delivered daily. We also have our OWN world wide relay company where ordering and payment can be done online.
BOOK EARLY FOR YOUR VALENTINES BOUQUETS
You HAVE to book early for valentines day !!!! 2000 BEST red roses ordered on 7th ALL ORDERED and had to order the same again YESTERDAY FOR FRIDAY DELIVERY JUST SOOO BUSY !!!!!!!! We will all be making up in our sleep LOLOL
Merry Merry Christmas to all our Customers
WOW Xmas is nearly here & we are so busy all of us canot keep up with the christmas wreaths or all the orders we are all working 24\7 already!!cant wait till we get a bigger place!! happy happy christmas to all and a very merry new year! Johnathan and all the elves.
Just so busy
Three years or so ago We started our Web site & Online shop and never thought in our wildest dreams that the future was so good .We are now an independent international & World wide florist with a huge portfolio of bespoke designs and world wide recomendations.
Specialist Services
Johnathan specialises in floral sculptures for either corperate functions dinner party's or funerals.All my sculptures are designed by me ,and ALL my commissions as with all my work is done using the freshest dutch flowers that are available.
Trade Bodies / Associations
F.S.B ,Flowers Direct ,Flowers 4,iFlorist,Florist Exchange.B.F.A Member.
Add rich content via our editing tools
Remove ads from your listing
Appear more prominently in search results